NEW RELEASE!
GET THE BOOK, EXPERIENCE THE FUN OF REALLY SWINGIN'. 
"The Art Of Swing Violin" is the culmination of over 30 years of studying, performing, recording and teaching Swing Violin! This Book and CD package is a significant leap forward in passing along the feel and nuance of this Art form to the next generation. Both students and seasoned players alike will find something profound to add to their repertoire.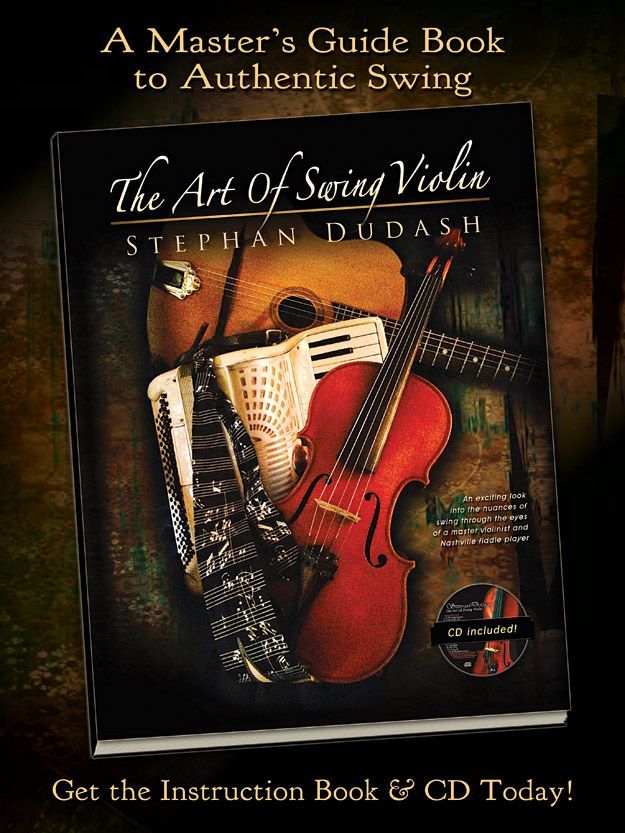 BOOK & CD PACKAGE - The Art Of Swing Violin 
"Stephan is one of the most accomplished, if not 'The' most accomplished Swing Violinist in the country. His feel is amazing." ~ George Cole 
Swing Violin Demystified! 
Can you learn the nuances that make music swing? Yes, you can if you have a master of the style chart a course through the intricacies that make melodies swing and audiences cheer. Master Swing Violinist and Nashville Fiddle player Stephan Dudash has finally made his 30 years of performing and teaching experience available for everyone. 
"There is magic in these pages". This book is not merely a collection of song charts. It is a very detailed guide filled with nuance and insight that will make your Swing playing sound truly authentic! 
For about the price of one private lesson with Stephan, you will receive a years worth of instruction. The amount of subtle details in the book, combined with a bit of history, is engaging for any level of musician. Stephan takes the time to explain what has made his playing successful with major, international recording and touring artists. If you're serious about your playing, and want to pick up a few secrets from a master, this Book and CD set is a "must have" in your collection! 
 Features of the Book & CD: 
Great recordings, soulfully played, show you how it's done
Play along band tracks of the actual pro recording sessions
Seven well-loved artfully arranged standard swing tunes
Fourteen original swing solos to help you develop real pro swing skills
Intricately detailed "Teaching Pages" that reveal master techniques
Swing patterns, chord progressions, scales, improvisation tips & more! 
Author: Stephan Dudash 
Design: Art Director/Copywriter - David Andrew Johnson